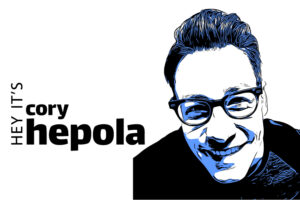 Cory Hepola is the Host of "Hey, it's Cory Hepola" from 9-Noon on WCCO Radio in Minneapolis. He's a two-time Emmy Winner for Outstanding TV Anchor and has been called a "Game Changer" in local media, landing on the cover of "Twin Cities Business" magazine.
In October 2018, Cory was presented with his 2nd Emmy Award in 3 years for Outstanding Anchor, this time for his work surrounding Super Bowl LII in Minneapolis. All total, in his 3 years at KARE, Cory was nominated for 5 Emmy's, including another win for Best Talent – Anchor in 2016. In 2017, he was featured in a cover article by "Twin Cities Business" detailing how the news media continues to evolve and was also awarded a "Hairry Award" for Best TV Hair in Minnesota.
But, Cory's story didn't start there; it took him 13 years, more than 350 station rejections, 6 jobs in different states, and 2 layoffs to reach his dream of working in his home state of Minneapolis. There were times, though, that it felt impossible, like the dream was too large.
"Let's not get tired of doing what is good. At just the right time we will reap a harvest of blessing if we don't give up," (Galatians 6: 9).
Cory shares this with the hope that it'll help inspire others to keep pushing towards their dream, as large as it may seem.
Before Minnesota, Cory was a Sports Anchor with Comcast Sportsnet in Houston, Texas, where he anchored daily sportscasts, served as a Host for Houston Astros Pre & PostGame LIVE and the magazine show "Astros Bases Loaded." In 2014, Cory earned 2 more Emmy nominations for Best Sports Anchor and Best Discussion/Interview.
Cory's other TV stops include: KVUE-TV in Austin, Texas, WROC-TV in Rochester, New York (Best Sportscast, 2010), WENY-TV in Elmira, New York, KTVH-TV in Helena, Montana, and KXJB-TV in Fargo, North Dakota (Best Sportscast, 2003). Cory also served as an intern for WRC-TV and "The George Michael Sports Machine" in Washington, DC.
Cory is married and has three children (all under five). Cory grew up in Perham, Minnesota and graduated from Concordia College in Moorhead.