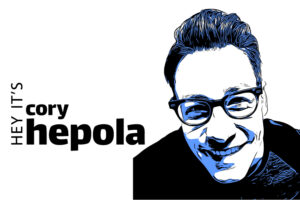 Cory Hepola is the Host of "Hey It's Cory Hepola" from 9-Noon on iconic WCCO Radio in Minneapolis where he's been named "100 People To Know in 2020" for his leadership and creativity by "Twin Cities Business."
Before his transition to radio, Cory won two Emmy-Awards for Outstanding TV Anchor while at KARE 11 (2016 & 2018) and has been called a "Game Changer" in local media, landing on the cover of "Twin Cities Business" magazine in 2017.
Cory is also an Inspirational Speaker, sharing his message "Leave Fear Behind, Realize Your Potential" where he lays out four qualities we all need to identify: our core values, strengths, weaknesses, and a larger purpose, while hitting on themes of faith, transparency, perseverance, and overcoming our fears.
It's a personal story for Cory; it took him 13 years, more than 350 station rejections, six jobs in different states, and two layoffs to reach his dream of working in his home state of Minnesota. There were times, though, it felt impossible, like the dream was too large.

"Let's not get tired of doing what is good. At just the right time we will reap a harvest of blessing if we don't give up," (Galatians 6: 9).
Cory is married and has three children (all five and under). Cory grew up in Perham, Minnesota and graduated from Concordia College in Moorhead.